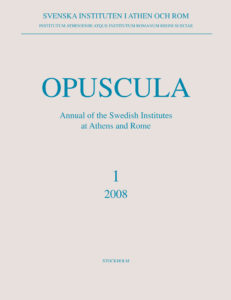 Out of print. Available for free download, use links below. Used copies might be available at Amazon.com and Amazon.de. View this volume at ERIH PLUS.
Contents
Katie Demakopoulou, Nicoletta Divari-Valakou, Monica Nilsson, Ann-Louise Schallin, with an appendix by Kalliopi Nikita | Excavations in Midea 2006
John K. Papadopoulos | The Archaic wall of Athens. Reality or myth?
Anton Bonnier | Epineia kai limenes. The relationship between harbours and cities in ancient Greek texts
Fabrizio Vistoli | Una nuova acquisizione di ceramica "white-on red" dall'ager Veientanus
Ola Wikander | The religio-social message of the gold tablets of Pyrgi
Milette Gaifmann | Visualized rituals and dedicatory inscriptions on votive offerings to the Nymphs
Gabriella Barbieri | Materiali inediti da Sovana. Alcuni corredi funerari dalla necropoli di San Sebastiano
Maria Gabriella Scapaticci | Nuovi dati sul popolamento nella pianura di Tarquinia durante la romanizzazione. Il caso della località "Il Giglio"
Paavo Roos | A forgotten tomb at Hippokome and its neighbours
Henrik Gerding | Reconsidering the tomb of Aulus Hirtius
Olof Brandt | I muri traversali di Santa Croce in Gerusalemme e la sinagoga di Ostia
Carmen Marcks | Die Büste eines Afrikaners aus der Sammlung Piranesi in Stockholm
In memoriam
Paul Åström (1929-2008) – the Swedish nestor of archaeology (Peter M. Fischer)
Paul Åström in memoriam 1929-2008 (Ann-Louise Schallin)
Tullia Linders (1925-2008) (Gullög Nordquist)
Bibliographical information
Opuscula. Annual of the Swedish Institutes at Athens and Rome (OpAthRom) 1, Stockholm 2008. ISSN: 2000-0898. ISBN: 978-91-977798-0-7. Softcover, 198 pages. https://doi.org/10.30549/opathrom-01