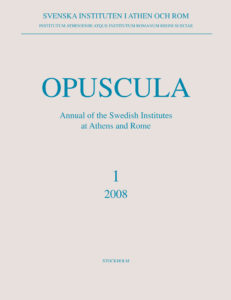 Opuscula 1 (2008) is out of print. Available for free download at Bokorder.se. Used copies might be available at Amazon.com and Amazon.de.
Nuovi dati sul popolamento nella pianura di Tarquinia durante la romanizzazione. Il caso della località "Il Giglio"
Abstract
During works for a communal athletic-ground at Tarquinia in the district "Il Giglio", which took place between 2000 and 2001, some slight remains of ancient structures of the Late-Republican and Early-Imperial Age were accidentally discovered. The Soprintendenza per i Beni Archeologici dell'Etruria Meridionale then undertook extensive excavations, documenting a farm and an interesting hydraulic system, part of which had already been found not far from there, at Tarquinia in the district "Gabelletta".
The part of the plain of Tarquinia that is located at the foot of the hill, where Corneto was later established in the Middle Ages, was intensively cultivated with a drainage system and very extensive canalizations, because of the natural fertility of the soil and the richness of water-supplies in this region. It is thus likely that the flax for which Tarquinia was famous in antiquity was cultivated in these fields, and that, towards the end of the second Punic War, this farmland supplied Rome with the flax to make the sails destined for the military enterprise.
Download PDF - Size: 388.42 KB - Downloads: 47 (since 2023)
Bibliographical information
Maria Gabriella Scapaticci, 'Nuovi dati sul popolamento nella pianura di Tarquinia durante la romanizzazione. Il caso della località "Il Giglio"', Opuscula. Annual of the Swedish Institutes at Athens and Rome (OpAthRom) 1, 123–135. Stockholm 2008. ISSN: 2000-0898. ISBN: 978-91-977798-0-7. Softcover, 198 pages. https://doi.org/10.30549/opathrom-01-09