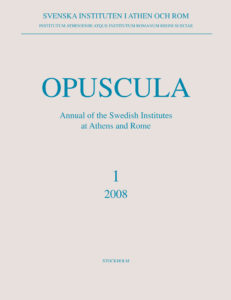 Opuscula 1 (2008) is out of print. Available for free download at Bokorder.se. Used copies might be available at Amazon.com and Amazon.de.
The Archaic wall of Athens: reality or myth?
Abstract
This paper reviews the philological and archaeological evidence for an Archaic, pre-Persian, city wall of Athens, and concludes that there was no Archaic enceinte separate from the fortifications of the Acropolis and Pelargikon. The extant testimonia, primarily Thucydides and Herodotos, can be interpreted in different ways, but there is nothing in these sources to suggest categorically fortifications other than those of the Acropolis/Pelargikon. Previous arguments put forward for the existence of such a putative wall do not stand up to closer scrutiny and, despite extensive excavations in those areas where the wall has been claimed, there is to date no archaeological evidence for an Archaic wall. The wall that the Persians breached in their sack of Athens in 480/79 B.C. was the Mycenaean circuit wall surrounding the Acropolis and Pelargikon; together these walls, built in the Mycenaean period, continued to serve through the Archaic period until 479 B.C. when work was begun on the Themistoklean Wall.
Download PDF - Size: 416.93 KB - Downloads: 48 (since 2023)
Bibliographical information
John K. Papadopoulos, 'The Archaic wall of Athens: reality or myth?', Opuscula. Annual of the Swedish Institutes at Athens and Rome (OpAthRom) 1, 31–46. Stockholm 2008. ISSN: 2000-0898. ISBN: 978-91-977798-0-7. Softcover, 198 pages. https://doi.org/10.30549/opathrom-01-03