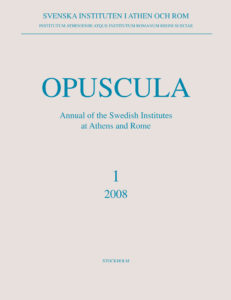 Opuscula 1 (2008) is out of print. Available for free download at Bokorder.se. Used copies might be available at Amazon.com and Amazon.de.
A forgotten tomb at Hippokome and its neighbours
By Paavo Roos
Abstract
A rock-cut tomb in Hippokome on the Lyco-Carian border was overlooked in an earlier survey and is published here, together with an adjacent blind door and two niches with sockets for stelai beside it, and another tomb and a niche in the vicinity.
Download PDF - Size: 342.34 KB - Downloads: 53 (since 2023)
Bibliographical information
Paavo Roos, 'A forgotten tomb at Hippokome and its neighbours', Opuscula. Annual of the Swedish Institutes at Athens and Rome (OpAthRom) 1, 137–144. Stockholm 2008. ISSN: 2000-0898. ISBN: 978-91-977798-0-7. Softcover, 198 pages. https://doi.org/10.30549/opathrom-01-10