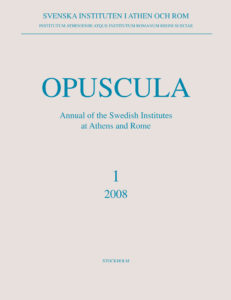 Opuscula 1 (2008) is out of print. Available for free download at Bokorder.se. Used copies might be available at Amazon.com and Amazon.de.
Visualized rituals and dedicatory inscriptions on votive offerings to the nymphs
Abstract
This article explores the religious meaning of Archaic and Classical dedications with images of rituals (e.g. sacrificial procession, libation) and dedicatory inscriptions. I argue that these objects ought to be treated as meaningful expressions of individuals' piety rather than as reflections of actual cult practices. I adopt a holistic approach that considers the two components of dedications—images and texts—as inextricably intertwined in the creation of meaning. The argument is exemplified through the examination of dedications to the Nymphs: the so-called Pitsá tablet, Archandros' relief from the Athenian Asklepieion, and two reliefs from a cave at Penteli. The detailed analysis of images, inscriptions, and their juxtaposition reveals how these dedications made the devotion of named individuals perpetual at a specific site, and shaped the manner in which the sacred was to be envisioned. Art and text together marked the site of deposition as a place of worship of the Nymphs, articulated specific ideas regarding rituals, the nature of the goddesses and their companions Pan and Hermes, and the possibilities for human interaction with these divinities. In rendering individual devotion continuous, these dedications confirmed the inexistence of such visualized rituals in reality. They elided and asserted the divide between the real and the imaginary in Greek religion.
Download PDF - Size: 479.74 KB - Downloads: 42 (since 2023)
Bibliographical information
Milette Gaifman, 'Visualized rituals and dedicatory inscriptions on votive offerings to the nymphs', Opuscula. Annual of the Swedish Institutes at Athens and Rome (OpAthRom) 1, 85–103. Stockholm 2008. ISSN: 2000-0898. ISBN: 978-91-977798-0-7. Softcover, 198 pages. https://doi.org/10.30549/opathrom-01-07