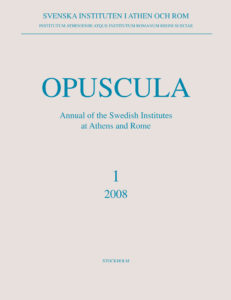 Opuscula 1 (2008) is out of print. Available for free download at Bokorder.se. Used copies might be available at Amazon.com and Amazon.de.
Epineia kai limenes: the relationship between harbours and cities in ancient Greek texts
Abstract
The aim of this article is to explore the relationship between harbours and cities as presented in literary sources dating primarily to the Archaic and Classical periods. Although it has been recognized that access to the sea and sailing routes was of great importance for the economic and political life of ancient Greek city-states, there have been few studies of the relationship between cities and harbours, and in particular of the emblematic role played by harbours within literary sources. Harbours are often presented as extramural entities in relation to cities and although urban centres would depend on harbours for the import and export of goods, and for maintaining navies, the relationship between harbours and cities is not unproblematic if we look at what harbours signify within these texts.
Download PDF - Size: 135.68 KB - Downloads: 74 (since 2023)
Bibliographical information
Anton Bonnier, 'Epineia kai limenes: the relationship between harbours and cities in ancient Greek texts', Opuscula. Annual of the Swedish Institutes at Athens and Rome (OpAthRom) 1, 47–61. Stockholm 2008. ISSN: 2000-0898. ISBN: 978-91-977798-0-7. Softcover, 198 pages. https://doi.org/10.30549/opathrom-01-04