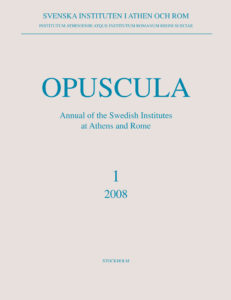 Opuscula 1 (2008) is out of print. Available for free download at Bokorder.se. Used copies might be available at Amazon.com and Amazon.de.
Books reviewed in Opuscula 1 (2008)
R.S. Merrillees | Hala Sultan Tekke XII. Tomb 24, stone anchors, faunal remains and pottery provenance, edited by Paul Åström & Karin Nys (SIMA 45:12), Sävedalen: Paul Åströms Förlag 2007. 62 pp., ills., tables. ISBN 978-91-7081-228-6. https://doi.org/10.30549/opathrom-01-17
Charlotte Scheffer | Works dealing with questions concerning ancient Greek vases (books reviewed: Approaches to the study of Attic vases, by P. Rouet; The Theseus Painter, by O. Borgers; The late mannierists in Athenian vase-painting, by T. Mannack; Non-Attic Greek vase inscriptions, by R. Wachter; Corpus Vasorum Antiquorum. Ny Carlsberg Glyptotek 1, by T. Fischer-Hansen; Corpus Vasorum Antiquorum. Amsterdam 3, by W.D.J. van de Put; Essays in honor of Dietrich von Bothmer, by A.J. Clarc & J. Gaunt, eds.). https://doi.org/10.30549/opathrom-01-18
Johannes Siapkas | The complexities of Hellenism—a review article (books reviewed: Placing modern Greece, by C. Güthenke; The nation and its ruins, by Y. Hamilakis). https://doi.org/10.30549/opathrom-01-19
Download PDF - Size: 65.98 KB - Downloads: 87 (since 2023)
Bibliographical information
'Book reviews', Opuscula. Annual of the Swedish Institutes at Athens and Rome (OpAthRom) 1, 185–197. Stockholm 2008. ISSN: 2000-0898. ISBN: 978-91-977798-0-7. Softcover, 198 pages.