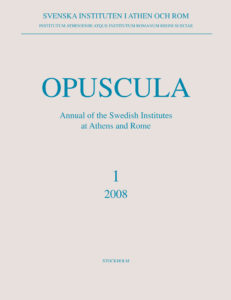 Opuscula 1 (2008) is out of print. Available for free download at Bokorder.se. Used copies might be available at Amazon.com and Amazon.de.
I muri trasversali di Santa Croce in Gerusalemme e la sinagoga di Ostia
By Olof Brandt
Abstract
The reasons behind the unusual internal division of the first phase of the church of Santa Croce in Gerusalemme have never been fully explained. This paper proposes an explanation of the phenomenon with the help of a comparison with the Synagogue of Ostia Antica.
Download PDF - Size: 227.57 KB - Downloads: 50 (since 2023)
Bibliographical information
Olof Brandt, 'I muri trasversali di Santa Croce in Gerusalemme e la sinagoga di Ostia', Opuscula. Annual of the Swedish Institutes at Athens and Rome (OpAthRom) 1, 155–166. Stockholm 2008. ISSN: 2000-0898. ISBN: 978-91-977798-0-7. Softcover, 198 pages. https://doi.org/10.30549/opathrom-01-12