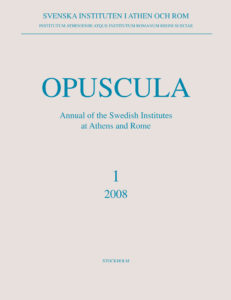 Opuscula 1 (2008) is out of print. Available for free download at Bokorder.se. Used copies might be available at Amazon.com and Amazon.de.
The religio-social message of the gold tablets from Pyrgi
By Ola Wikander
Abstract
The gold tablets from Pyrgi, studied many times for linguistic and philological reasons, constitute a clear example of religio-social ideology at work. They deploy their themes (the goddess, the ruler, the sanctuary) in a way that helps create the symbolical universe of the readers, in whose world it is inscribed that these things are part of a greater, orderly whole. The texts are here analysed from the points of view of ideology, power and religious tendency, as parts of the system of religious symbolism that they seek to legitimize. Rhetorical points are also touched upon, as well as the fundamental question of the implied readership of the texts.
This contribution is only available in print.
Bibliographical information
Ola Wikander, 'The religio-social message of the gold tablets from Pyrgi', Opuscula. Annual of the Swedish Institutes at Athens and Rome (OpAthRom) 1, 79–84. Stockholm 2008. ISSN: 2000-0898. ISBN: 978-91-977798-0-7. Softcover, 198 pages. https://doi.org/10.30549/opathrom-01-06