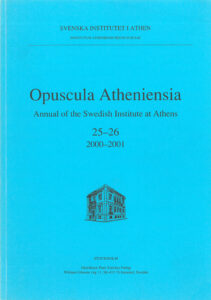 Distributed by Astrom Editions.
Robin Hägg dedicata
Contents
Therese Åkerstedt | Hellenistic-Roman chamber toms at Milas: Swedish excavations 1938 (pp. 9–23)
Yvonne Backe-Forsberg, Christina Risberg & Yannis Bassiakos | Metal-working at Asine. Report on the remains of iron production from the Barbouna area and the area east of the Acropolis (pp. 25–34)
Katie Demakopoulou, Nicoletta Divari-Valakou, Paul Åström & Gisela Walberg | Work in Midea 1997–1999: excavation, conservation, restoration (pp. 35–52)
Niklas Hillbom | Minoan and Eastern Mediterranean games and game boards: a history of research (pp. 53–65)
Kerstin Höghammar | A note on the border conflict between Argos and Sparta in the second century B.C. (pp. 67–70)
Petra Pakkanen | The relationship between continuity and change in Dark Age Greek religion: a methodological study (pp. 71–88)
Introduction: Mycenaean pictorial pottery (p. 89)
Vassos Karageorghis | The Mycenaean pottery of the pictorial style: achievements and perspectives (pp. 91–93)
Hans Mommsen & Joseph Maran | Production places of some Mycenaean pictorial vessels: the contribution of chemical pottery analysis (pp. 95–106)
Lucia Vagnetti | Preliminary remarks on Mycenaean pictorial pottery from the central Mediterranean (pp. 107–115)
Miscellanea
Evangelos Kyriakidis | Pithos or baetyl? On the interpretation of a group of Minoan rings (pp. 117–118)
Book reviews
Gullög Nordquist | C. Björk, Early pottery in Greece. A technological and functional analysis of the evidence from Neolithic Achilleion, Thessaly (pp. 119–121)
Gullög Nordquist | W. Cavanagh & C. Mee, A private place: death in Prehistoric Greece (pp. 121–123)
Gullög Nordquist | J.G. Younger, Music in the Aegean Bronze Age (pp. 123–124)
Helène Whittaker | K.T. Arafat, Pausanias' Greece. Ancient artists and Roman rulers (pp. 124–128)
Books received (p. 128)
Karin Hägg Niklasson | The published writings of Robin Hägg. A bibliography (pp. 129–135)
Guide for contributors to Opuscula Atheniensia and Opuscula Romana (pp. 137–140)
Bibliographical information
Opuscula Atheniensia. Annual of the Swedish Institute at Athens (OpAth) 25–26, Stockholm 2001. ISSN: 0078-5520. ISBN: 91-7916-042-5. Softcover, 140 pages.