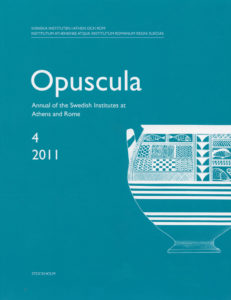 All content available with open access, use links below. Printed edition distributed by eddy.se AB at Bokorder.se. Also available at Amazon.com, Amazon.de, Bokus.com, and Adlibris.com. View this volume at ERIH PLUS.
Contents
Henrik Gerding | A courtyard gate at Thourioi
Lars Karlsson, Jesper Blid & Olivier Henry | Labraunda 2010. A preliminary report on the Swedish excavations
Peter M. Fischer | The New Swedish Cyprus Expedition 2010. Excavations at Dromolaxia Vizatzia/Hala Sultan Tekke. Preliminary results. With appendices by P. Klingborg, F. & F. Kärfve, C. Hagberg, O. Svensson, S. Macheridis & L. Franz
Cecilia Olovsdotter | Representing consulship. on the conception and meanings of the consular diptychs
Petra Pakkanen | Is It Possible to Believe in Syncretistic God? Discussion on Conceptual and Contextual Aspects of Ancient Greek Syncretism
Anna Holst Blennow & Frederick Whitling | Italian dreams, Roman longings. Vilhelm Lundström and the first Swedish philological-archaeological course in Rome, 1909
Bibliographical information
Opuscula. Annual of the Swedish Institutes at Athens and Rome (OpAthRom) 4, Stockholm 2011. ISSN: 2000-0898. ISBN: 978-91-977798-3-8. Softcover, 173 pages. https://doi.org/10.30549/opathrom-04.