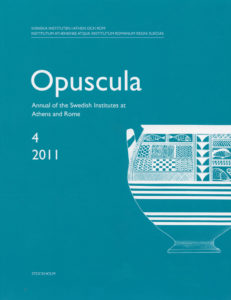 Opuscula 4 (2011) is now available for purchase and free download at Bokorder.se. Also available at Amazon.com, Amazon.de, Bokus.com, and Adlibris.com.
Italian dreams, Roman longings. Vilhelm Lundström and the first Swedish philological-archaeological course in Rome, 1909
By Anna Blennow & Frederick Whitling
Abstract
In Sweden, the future of Classical Philology and the study of the ancient past remain uncertain a century after the first Swedish university course in Rome, led by Vilhelm Lundström, Professor of Latin at Gothenburg, and the simultaneous establishment of the study of Classical Archaeology and Ancient History in Swedish academia in 1909. The institutionalisation of the Swedish scholarly presence in Rome materialised with the establishment of the Swedish Institute in Rome (SIR) in 1925, and its inauguration the following year—partly as a result of Lundström's pioneering initiative. The present article discusses the implications of Lundström's course in Rome as well as in Sweden, and sheds light on his neohumanist vision of an integrated study of antiquity; with Classical Archaeology and Ancient History as integral elements of Classical Philology. This vision lay abandoned throughout the twentieth century, but deserves to be taken into account when discussing how philology relates to archaeology, or considering the study of antiquity and the classical tradition in a modern comprehensive context of humanities in academia.
Download PDF - Size: 890.57 KB - Downloads: 37 (since 2023)
Bibliographical information
Anna Blennow & Frederick Whitling, 'Italian dreams, Roman longings. Vilhelm Lundström and the first Swedish philological-archaeological course in Rome, 1909', Opuscula. Annual of the Swedish Institutes at Athens and Rome (OpAthRom) 4, 143–158. Stockholm 2011. ISSN: 2000-0898 ISBN: 978-91-977798-3-8. Softcover, 168 pages. https://doi.org/10.30549/opathrom-04-07