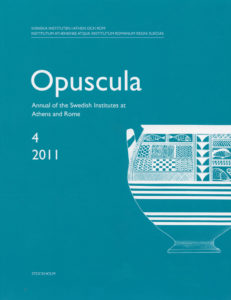 Opuscula 4 (2011) is now available for purchase and free download at Bokorder.se. Also available at Amazon.com, Amazon.de, Bokus.com, and Adlibris.com.
Representing consulship. On the concept and meanings of the consular diptychs
Abstract
Although the consular diptych does not appear as a distinct category of art until the end of the Roman consulate's thousand-year history (c. 400–541), it constitutes a primary example of the continuance of Roman honorific tradition, developing concurrently with the division and transformation of the Roman empire and the resurgence of the consulate as the most prestigious office on the cursus honorum. By analysing and interpreting the patterns of motif selection, compositional structure and representational mode in the consular diptychs, it is possible to trace the various contextual factors, cultural and historical, that contributed towards their conception, and to gain valuable insights into the precepts of the late antique 'ideology of consulship' that was transmitted through this new visual medium. The present article discusses the different layers of meaning within the consular imagery, conveyed through an increasing elaboration and regularization of form and content, from the basic theme of official apparatus and ceremonial to the more symbolic themes through which the ideal aspects and functions of the Late Antique consulate are expressed, notably the triumphal and regenerative powers figuratively invested in the consul, and the intimate link between these and the ideas of imperial victory and 'Eternal Rome'.
Download PDF - Size: 1.09 MB - Downloads: 46 (since 2023)
Bibliographical information
Cecilia Olovsdotter, 'Representing consulship. On the concept and meanings of the consular diptychs', Opuscula. Annual of the Swedish Institutes at Athens and Rome (OpAthRom) 4, 99–123. Stockholm 2011. ISSN: 2000-0898 ISBN: 978-91-977798-3-8. Softcover, 168 pages. https://doi.org/10.30549/opathrom-04-05