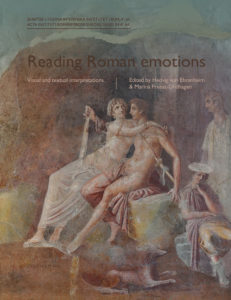 Distributed by Eddy.se AB. Also available at Amazon.com, Adlibris and Bokus.
Reading Roman emotions. Visual and textual interpretations
Edited by Hedvig von Ehrenheim & Marina Prusac-Lindhagen
This volume is a contribution to the study of culturally bound emotions and emotional response in ancient Rome. Approaches to the study of ancient emotions and how they were culturally specific, appreciated and understood have recently come to the centre of attention, but not so much in the visual as in the literary culture. When socially and affectively contextualized, the material culture of ancient Rome is a potential goldmine of information with regard to emotions. The chapters in the present volume take the reader on a tour through various cases that demonstrate how emotions were expressed through the arts. The tour starts with a fresh view of how emotion history can be used to recover feelings from the visual culture of the past. Visual culture includes animated performances, and the reader is invited to revel in Roman drama, oratory, and love poetry. Words are often clear, but can images reveal laughter and joy, sadness, grief and mourning, virtue and anger? This volume argues that yes, they can, and through the study of emotions it is also possible to obtain a deeper understanding of the Romans and their social and cultural codes.
Table of contents
Hedvig von Ehrenheim & Marina Prusac-Lindhagen | Introduction (pp. 9–18)
Susan Matt | 1. Recovering emotion from visual culture (pp. 19–27)
Gesine Manuwald | 2."artifices scaenici, qui imitantur adfectus". Displaying emotions in Roman drama and oratory (pp. 29–40)
J. Rasmus Brandt | 3. Emotions in a liminal space. A look at Etruscan tomb paintings (pp. 41–67)
Hedvig von Ehrenheim | 4. Humour in Roman villa sculpture. Laughter for social cohesion (pp. 69–88)
John R. Clarke | 5. Laughter in Roman visual culture, 100 BC–AD 200. Contexts and theories  (pp. 89–105)
Arja Karivieri | 6. Reading emotions in Pompeian wall paintings and mosaics (pp. 107–116)
Thea Selliaas Thorsen | 7. Blindness and insight. Emotions of erotic love in Roman poetry (pp. 117–130)
Kristine Kolrud | 8. Breaking Fury's chains. The representation of anger in the Sala di Giovanni dalle Bande Nere in the Palazzo Vecchio in Florence (pp. 131–147)
Lena Larsson Lovén | 9. … and left his parents in mourning … Grief and commemoration of children on Roman memorials (pp. 149–162)
Johan Vekselius | 10. Trajan's tears. Reading virtue through emotions (pp. 163–176)
Marina Prusac-Lindhagen | 11. Through the looking glass. Collective emotions and psychoiconography in Roman portrait studies (pp. 177–191)
Jan N. Bremmer | Epilogue. Final considerations and questions regarding visual and textual emotions (pp. 193–199)
Bibliographical information
Hedvig von Ehrenheim & Marina Prusac-Lindhagen (eds), Reading Roman emotions. Visual and textual interpretations (Skrifter utgivna av Svenska Institutet i Rom 4°, 64), Stockholm 2020. ISSN: 0081-993X. ISBN: 978-91-7042-186-0. Hardcover: 199 pages.
Reviews
L'Antiquité Classique 91, 2022, 242-244 (Caroline Supply)
The Journal of Roman Studies, First View (Chiara Thumiger)
Medusa – Svensk tidskrift för antiken, 42:3, 42-43 (Martina Björk)
Etruscan and Italic Studies, 2022 (Sinclair W. Bell)