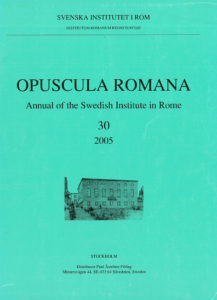 Distributed by Astrom editions. See record at WorldCat.
Contents
Anne-Marie Leander Touati | The Piranesi marbles from Rome to Stockholm. An introduction to research in progress (pp. 7–29)
Raffaela Bosso | Osservazioni sull'attività della bottega Piranesi tra Giovanni Battista e Frencesco: il caso esemplare del gruppo di candelabri con trampolieri (pp. 31–62)
Dietrich Boschung & Glenys Davies | Arae Passieniorum (pp. 63–72)
G.F. Guidi, C. Giardino & G. Trojsi | L'insediamento etrusco di San Giovenale (Blera, Vitterbo). Caratterizzazione chimico-fisica dei residui delle attività produttive (pp. 73–84)
Kristina Jonsson | Intra mural graves in Rome. Social dimensions in early medieval burial practices (pp. 85–95)
Monica Nilsson & Mark Robinson | Remains of prehistoric habitation beneath Pompeii V 1,13 (pp. 97–103)
Bengt E. Thomasson | Laterculi praesidium. Addendorum series quarta (pp. 105–122)
Book reviews
Örjan Wikander | L. Ambrosini, Thymiateria etruschi in bronzo di età tardo classica, alto e medio ellenistica (pp. 123–131)
Izabella Donkow | B. Burell, Neokoroi: Greek cities and Roman emperors (pp. 132–133)
Bibliographical information
Opuscula Romana. Annual of the Swedish Institute in Rome (OpRom) 30, Stockholm 2006. ISSN: 0471-7309. ISBN: 91-7042-173-0. Softcover, 133 pages.
Reviews
L'Antiquité Classique (Jean-Charles Balty)