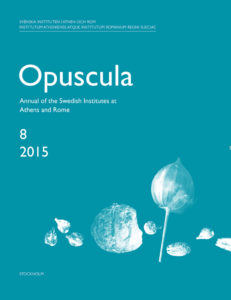 All content available with open access, use links below. Printed edition distributed by eddy.se AB at Bokorder.se. Also available at Amazon.com, Bokus.com and Adlibris.com. View this volume at ERIH PLUS.
Contents
John K. Papadopoulos | The Charitonidis Class. A group of large Athenian Late Protogeometric skyphoi
Peter M. Fischer & Teresa Bürge | The New Swedish Cyprus Expedition 2014. Excavations at Hala Sultan Tekke. Preliminary results. With contributions by B. Stolle, I. Trinks, L. Mazzotta & L. Recht, A. Lindqvist & D. Kofel
Vassos Karageorghis & Efstathios Raptou | Two new Proto-White Painted ware vases of the pictorial style from Palaepaphos, Cyprus
Susanne Berndt | Cutting the Gordian knot. The iconography of Megaron 2 at Gordion
Hedvig Landenius Enegren | Loom weights in Archaic South Italy and Sicily. Five case studies
Peter M. Fischer & Teresa Bürge | The Swedish Jordan Expedition 2014 at Tall Abu al-Kharaz. Preliminary results from Areas 12 and 13
Gregor Maurach | Terenz' Hecyra – Spiel der Voreiligkeiten
Bibliographical information
Opuscula. Annual of the Swedish Institutes at Athens and Rome (OpAthRom) 8, Stockholm 2015. ISSN: 2000-0898. ISBN: 978-91-977798-7-6. Softcover, 196 pages. https://doi.org/10.30549/opathrom-08.