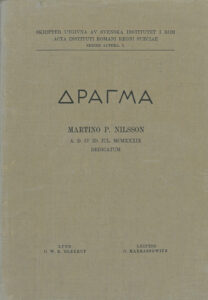 Published by the Swedish Institute of Classical Studies in Rome. Out of print.
ΔΡΑΓΜΑ. Martino P. Nilsson A. D. IV. Iul. anno MCMXXXIX dedicatum
Edited by Krister Hanell, Erik J. Knudtzon & Natan Valmin
Contents
Arvid Andrén, Una testa fittile etrusca del V secolo a. C.
Ernst Arbman, Mythic and religious thought
Bertil Axelson, A problem of genuinness in Juvenal
Gerhard Bendz, Eine lateinische Exemplabiographie
Franz Blatt, Un nouveau texte d'une apologie anonyme chrétienne
Christian Blinkenberg, Règlements de sacrifices rhodiens
Axel Boëthius, Vitruvius and the Roman architecture of his age
Sture Bolin, Der Solidus
Efraim Briem, Totemism and animal worship
Samson Eitrem, Daulis in Delphoi und Apollons Strafe
Knud Friis Johansen, Achill bei Chiron
Einar Gjerstad, Über die Baugeschichte des republikanischen Comitium
Harald Hagendahl, La « comédie » latine au XIIe siècle et ses modèles antiques
Krister Hanell, Das traditionelle Anfangsjahr der römischen Republik
Carsten Höeg, The second pleading of the Verres trial
Johannes Lindblom, Job and Prometheus
Hans Peter L'orange, Ein unbekanntes Augustusbildniss
Einar Löfstedt, Zum Stil des Tacitus
Ernst Nachmanson, Remarques syntaxiques sur les écrits Hippocratiques
Wilhelm Norlind, Astronomische Streifzüge in Joen Petri Klints "Om meteorer"
Henrik Samuel Nyberg, Bemerkungen zum "Buch der Götzenbilder" von Ibn al-Kalbī
Anders Nygren, Die Ehrenrettung von amor bei Augustin
Bror Olsson, Drohungen an die Götter
Axel W. Persson, Legende und Mythos in ihrem Verhältnis zu Bild und Gleichnis im vorgeschichtlichen Griechenland
Hilding Pleijel, Bodenreform und Frömmigkeit
Frederik Poulsen, A Roman of Republican days
Gunnar Rudberg, Zu den literarischen Formen der Sokratiker
Otto Rydbeck, Über den Gebrauch von Steinwerkzeugen während der Bronzezeit in Schweden
Johannes Sundwall, Das Krötenmotiv in der Vorgeschichte von Latium
Arnold Svensson, Ein epischer Stilzug in den Botenberichten des Euripides
Gösta Säflund, Punta del Tonno
Natan Valmin, Messapisches in Messenien
Erik Welin, Die beiden Festtage der Ara Pacis Augustae
Alfred Westholm, The Colossus from Amathus
Albert Wifstrand, Autokrator, Kaisar, Basileus
Erik Wikén, Die Ansichten der Hellenen über den Nordrand der Oikoumene vor Pytheas
Åke Åkerström, Drei attische Vasen
Erik J. Knudtzon, Beiträge zu einer Bibliographie Martin P. Nilsson 1897–1939
Bibliographical information
Krister Hanell, Erik J. Knudtzon & Natan Valmin, eds, ΔΡΑΓΜΑ. Martino P. Nilsson A. D. IV. iul. anno MCMXXXIX dedicatum (Skrifter utgivna av Svenska Institutet i Rom, 8°, 1), Stockholm 1939.
Reviews
American Journal of Archaeology 44:4, 559–560 (George M.A. Hanfmann)
Latomus 6:1, 81–82 (Marcel Renard)