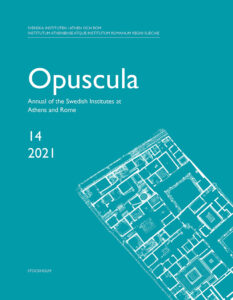 Opuscula 14 is published with open access. Printed edition distributed by Eddy.se AB. Also available at Amazon.com, Adlibris, and Bokus. View volume at ERIH PLUS.
The Temple of Demeter Chthonia at Hermione
By Jesper Blid (Austrian Academy of Sciences, Austria), with an appendix by Baukje van den Berg (Central European University, Austria)
Abstract
This paper presents the results of an architectural survey of the foundations of a Classical temple, presumably that of Demeter Chthonia, located inside the chief sanctuary of the ancient city of Hermione. It also studies ancient architectural members built into the walls of the Taxiarches Church situated on top of the temple foundations. By analysing these material remains and connecting them to the observations of 19th-century travellers to Kastri (Hermione), the paper draws conclusions about the original size and appearance of the Temple of Demeter Chthonia.
Download PDF - Size: 1.85 MB - Downloads: 117 (since 2023)
Bibliographical information
Jesper Blid, with an appendix by Baukje van den Berg, 'The Temple of Demeter Chthonia at Hermione', Opuscula. Annual of the Swedish Institutes at Athens and Rome (OpAthRom) 14, Stockholm 2021, 101-134. ISSN: 2000-0898. ISBN: 978-91-977799-3-7. Softcover, 478 pages. https://doi.org/10.30549/opathrom-14-07
Hermione. A Greek cityscape and its people
The section on Hermione, published in OpAthRom 14, comprises six articles:
Alcestis Papadimitriou | An ancient cityscape and its people: A study of ancient Hermione. Introductory remarks on historical sources and visible remains, archaeological research and prospects (pp. 65-76)
Henrik Gerding | The topography of Hermione—A preliminary outline (pp. 77-99)
Jesper Blid, with an appendix by Baukje van den berg | The Temple of Demeter Chthonia at Hermione (pp. 101-134)
Patrik Klingborg | The cisterns of the Bisti promontory at Hermione. With a preliminary description of the Roman aqueduct (pp. 135-155)
Angeliki Kossyva | Life and death in ancient Hermione. Excavations in the necropolis (pp. 157-167)
Jenny Wallensten | The key to Hermione? Notes on an inscribed monument (pp. 169-180)