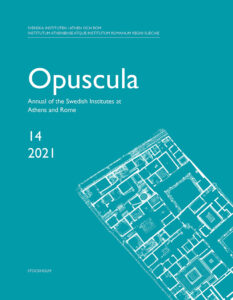 Opuscula 14 is published with open access. Printed edition distributed by Eddy.se AB. Also available at Amazon.com, Adlibris, and Bokus. View volume at ERIH PLUS.
The cisterns of the Bisti promontory at Hermione. With a preliminary description of the Roman aqueduct
By Patrik Klingborg (Swedish Institute at Athens, Greece)
Abstract
This article reports the findings of the fieldwork exploring the cisterns at the Bisti promontory of Hermione, executed as part of a collaboration between the Ephorate of Antiquities of the Argolid and the Swedish Institute at Athens. In order to better understand the function of the cisterns within the water supply system, the article begins by presenting an overview of existing water resources in the area, primarily the naturally occurring sources and the city's 2nd-century AD Roman aqueduct. Following this the study describes the remains of the 14 potential cisterns on the Bisti. Based on the empirical material the similarities and contrasts between these are explored, as well as what they can tell us about the history and life in ancient Hermione. In particular, the article suggests that the presence of the cisterns contributes to our understanding of the urban fabric of the city, and reveals important information about when the city was moved from the Bisti to the nearby Pron Hill.
Download PDF - Size: 862.45 KB - Downloads: 80 (since 2023)
Bibliographical information
Patrik Klingborg, 'The cisterns of the Bisti promontory at Hermione. With a preliminary description of the Roman aqueduct', Opuscula. Annual of the Swedish Institutes at Athens and Rome (OpAthRom) 14, Stockholm 2021, 135-155. ISSN: 2000-0898. ISBN: 978-91-977799-3-7. Softcover, 478 pages. https://doi.org/10.30549/opathrom-14-08
Hermione. A Greek cityscape and its people
The section on Hermione, published in OpAthRom 14, comprises six articles:
Alcestis Papadimitriou | An ancient cityscape and its people: A study of ancient Hermione. Introductory remarks on historical sources and visible remains, archaeological research and prospects (pp. 65-76)
Henrik Gerding | The topography of Hermione—A preliminary outline (pp. 77-99)
Jesper Blid, with an appendix by Baukje van den berg | The Temple of Demeter Chthonia at Hermione (pp. 101-134)
Patrik Klingborg | The cisterns of the Bisti promontory at Hermione. With a preliminary description of the Roman aqueduct (pp. 135-155)
Angeliki Kossyva | Life and death in ancient Hermione. Excavations in the necropolis (pp. 157-167)
Jenny Wallensten | The key to Hermione? Notes on an inscribed monument (pp. 169-180)