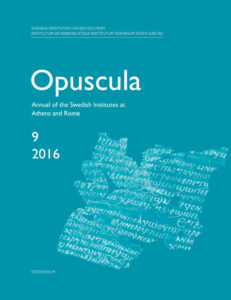 Opuscula 9 (2016) is now available for purchase and free download at bokorder.se. Also available at Amazon.com, Amazon.de, Bokus.com and Adlibris.com.
Textile tools from the East Gate at Mycenaean Midea, Argolis, Greece
Abstract
This contribution presents in the first place an analysis and interpretation of all implements and tools possibly related to textile production that were recovered in the East Gate area at Midea during the Greek-Swedish excavation campaigns between 2000 and 2009. Secondly, with the help of comparative evidence from other zones on the citadel of Midea and also from other Mycenaean sites, it is argued that at least one multifunctional unit, where textile manufacture was also carried out, might have existed in the East Gate area. It is also suggested that this textile production comprised fine quality products to a significant extent. Finally, referring to signalling theory it is proposed that the fabrics possibly manufactured in the citadel served as means for the local community or élite to partake in the socio-cultural and political competition which seems to characterize Mycenaean society in general.
Download PDF - Size: 946.29 KB - Downloads: 51 (since 2023)
Bibliographical information
Serena Sabatini, 'Textile tools from the East Gate at Mycenaean Midea, Argolis, Greece', Opuscula. Annual of the Swedish Institutes at Athens and Rome (OpAthRom) 9, Stockholm 2016, 217–247. ISSN: 2000-0898. ISBN: 978-91-977798-8-3. https://doi.org/10.30549/opathrom-09-08