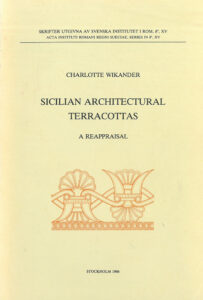 Distributed by Astrom Editions.
Sicilian architectural terracottas. A reappraisal
The study of the architectural terracottas of Sicily, like that of architectural terracottas as a whole, has gained momentum through the recent finds of early terracotta production in Central Italy (Acquarossa and Poggio Civitate). These finds call for a reevaluation of the early period and subsequent development of this particular craft, where the situation in, and influences to and from, different geographical areas are examined. The architectural terracottas of Sicily must necessarily be an important part of such studies; the present work is aimed at facilitating this through a collection, as thorough as possible, of material hitherto very disparately presented (Catalogue). The practical possibilities of contrasting and comparing different assemblies are considered of paramount importance, hence the inclusion of schematized drawings in consistent scale to as great an extent as possible.
A short analytical summary discusses the different members; the roofs treated are all of the type with lateral, as well as raking simas. Antefix roofs are not included in the discussion, which starts with the earliest type of sima (Himera, Grammichele, Syrakusai) and goes on to the typically Sicilian, "Geloan" sima and its accompanying geison revetment plaques. The development of types specific to Selinus, and their relations with the mainland Greek Corinthian sima are treated, as is the "anthemion" roof with molded à jour-worked simas. Throughout, particular attention is called to the painted decoration, its motifs and syntax.
Contents
Bibliographical abbreviations
Preface
Introduction
1. The early period
2. The Sicilian systems
2.1 The sima
2.2 The Selinus system
2.3 Geison revetments
Catalogue
Introduction
Akragas; Gela; Grammichele; Himera; Kamarina; Leontinoi; Megara Hyblaia; Monte S. Mauro; Naxos; Selinus; Syrakusai; Delphi; Olympia
Bibliographical information
Charlotte Wikander, Sicilian architectural terracottas. A reappraisal (Skrifter utgivna av Svenska Institutet i Rom, 8°, 15), Stockholm 1986. ISSN: 0283-8389. ISBN: 978-91-7042-118-1. Softcover: 51 pages.
Reviews
American Journal of Archaeology 95:3, 553–554 (John F. Kenfield)
Bibliotheca Orientalis 45, 1988, 657–650 (R.R. Knoop)
Revue Archeologique 1988:1, 149–150 (Marie-Françoise Billot)