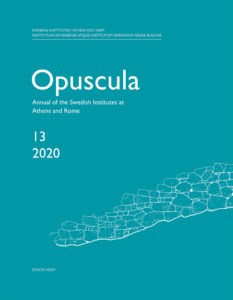 All content of Opuscula 13 is available with open access. Printed edition distributed by Eddy.se AB. Also available at Amazon.com, Adlibris, and Bokus. View volume at ERIH PLUS.
Religion and family politics in Hellenistic Kalaureia. Three new inscriptions from the sanctuary of Poseidon
By Nikolaos Papazarkadas (University of California, Berkeley, USA) & Jenny Wallensten (Swedish Institute at Athens, Greece)
Abstract
This article presents three unpublished Hellenistic inscriptions from the sanctuary of Poseidon in Kalaureia (modern Poros): two found during archaeological excavations on the site and one recorded in a letter that was once part of Ioannis Kapodistrias' official correspondence. All three inscriptions were dedicatory and carved on bases supporting portrait statues. Interestingly, they were offered to Poseidon by members of a single family already known from other documents in the Kalaureian epigraphic corpus. Remarkably, eight out of the 18 inscriptions discovered in Kalaureia make repeated references to men and women of this very family, which appears to have materially dominated Poseidon's temenos and its environs during the 3rd and 2nd centuries BC through the careful placement of portraits of its members. Most of these statues were conspicuously placed by the entrance to the sanctuary, though at least one of them was erected inside of the god's temple. In our article, we present in detail the three new inscriptions, one of them an epigram, and attempt an analysis of the religious behaviour of this prominent local family against the background of contemporary sociopolitical developments.
Download PDF - Size: 1.22 MB - Downloads: 63 (since 2023)
Bibliographical information
Nikolaos Papazarkadas & Jenny Wallensten, 'Religion and family politics in Hellenistic Kalaureia. Three new inscriptions from the sanctuary of Poseidon', Opuscula. Annual of the Swedish Institutes at Athens and Rome (OpAthRom) 13, Stockholm 2020, 139–164. ISSN: 2000-0898. ISBN: 978-91-977799-2-0. https://doi.org/10.30549/opathrom-13-06