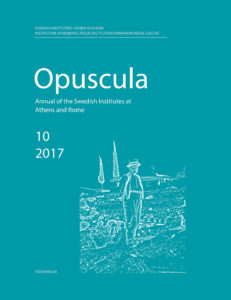 Opuscula 10 (2017) is now available for purchase at Amazon.com, Bokus.com, Adlibris.com, and Bokorder.se.
The last occupation of Asine in Argolis
Abstract
Kastraki Hill on the eastern Argolic Gulf, with visible remains of impressive fortifications, has been identified since the mid-19th century as the position occupied by the acropolis of ancient Asine. The first systematic excavations were carried out by the Swedish Institute in the 1920s and revealed the continuous habitation of the site from the Early Helladic period (3rd millennium BC) up to the late 4th-early 5th century AD. Many additions and repairs on the acropolis were made during the Byzantine period and the 2nd Venetian Occupation of the Peloponnese (1686–1715). However, the most destructive interventions in the area are the works carried out by the Italians during World War II. Fearing an invasion of the Allies on this side of the Peloponnese, the Italians fortified the acropolis by making additions to the ancient walls and constructing auxiliary buildings, pillboxes, observation posts and trenches around the rocky outcrop using materials from buildings of the Lower Town. Their departure after the war revealed the extent of the destruction of the antiquities. During the past few decades we have seen interest in approaching sites of recent conflict using archaeological methods that could help researchers understand these transformations of matter in a deeper way. Such is the case of Asine, a palimpsest landscape with archaeological and historical remains of human activity extending from prehistoric to modern European times. This article will attempt to reveal this hidden side of contemporary history and offer a glimpse into the lives of the last inhabitants of the ancient city.
Download PDF - Size: 15.30 MB - Downloads: 102 (since 2023)
Bibliographical information
Nektarios-Peter Yioutsos, 'The last occupation of Asine in Argolis', Opuscula. Annual of the Swedish Institutes at Athens and Rome (OpAthRom) 10, Stockholm 2017, 164–189. ISSN: 2000-0898. ISBN: 978-91-977798-9-0. https://doi.org/10.30549/opathrom-10-08