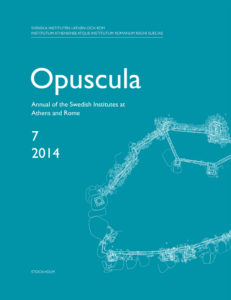 Opuscula 7 (2014) is now available for purchase and free download at Bokorder.se. Also available at Amazon.com, Amazon.de, Bokus.com and Adlibris.com.
New inscriptions in the Bodrum Museum. A Hellenistic foundation from the area of Mylasa
By Signe Isager
Abstract
This article presents two hitherto unknown Hellenistic inscriptions, both of which are fragmentary. They are inscribed on two sides of a stone which is now in the Museum of Underwater Archaeology in Bodrum (inv. no. 6651) but probably originated from the area of Mylasa. Both inscriptions concern a private foundation that is referred to as the syngeneia in inscription A. The foundation seems to be of a type already known from Halikarnassos, Kos and Thera, for example. This article aims to make the two inscriptions available not least to the many scholars studying associations and foundations.
Download PDF - Size: 263.61 KB - Downloads: 54 (since 2023)
Bibliographical information
Signe Isager, 'New inscriptions in the Bodrum Museum. A Hellenistic foundation from the area of Mylasa', Opuscula. Annual of the Swedish Institutes at Athens and Rome (OpAthRom) 7, Stockholm 2014, 185–192. ISSN: 2000-0898. ISBN: 978-91-977798-6-9. Softcover, 257 pages. https://doi.org/10.30549/opathrom-07-10
See also