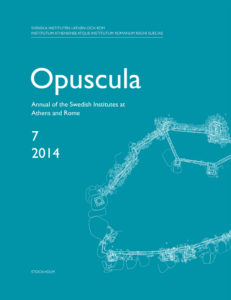 Opuscula 7 (2014) is now available for purchase and free download at Bokorder.se. Also available at Amazon.com, Amazon.de, Bokus.com and Adlibris.com.
Berit Wells in Memoriam
By Arto Penttinen & Jenny Wallensten
Introduction
The following section honours our colleague, teacher, and friend, Berit Wells. The contributions were originally to be included in a Festschrift, which we wished to present to Berit on her 67th birthday. Sadly, Berit lost her battle against cancer before we could finish the volume. We thus decided to transform the Festschrift into a conference dedicated to her memory, and this event took place over two cold winter days in December 2009. For the Festschrift we had chosen two themes: religion and food production in the ancient Greek world. The interface of these very broad themes seemed to us to converge and offer an overall perspective of Berit's research and simultaneously, they allowed colleagues from all stages of Berit's careers to take part and contribute to the conference. The six articles included in Opuscula 2014 are a selection of the conference papers, which also included reports from the Poros excavations. Poros was Berit's last major project and its results will be published elsewhere.
Download PDF - Size: 158.36 KB - Downloads: 83 (since 2023)
Conference proceedings published in Opuscula 7 (2014)
Gunnel Ekroth | Castration, cult and agriculture. Perspectives on Greek animal sacrifice
Charlotte Scheffer | Cooking stands and braziers in Greek sanctuaries
Signe Isager | New inscriptions in the Bodrum Museum. A Hellenistic foundation from the area of Mylasa
Jenny Wallensten | Karpophoroi deities and the Attic cult of Ge. Notes on IG 11₂ 4758
Sarah P. Morris | Dairy Queen. Churns and milk products in the Aegean Bronze Age
Monica Nilsson | A note on domestic vs communal grain storage in the Early Helladic period
Bibliographical information
Arto Penttinen & Jenny Wallensten, 'Berit Wells in memoriam', Opuscula. Annual of the Swedish Institutes at Athens and Rome (OpAthRom) 7, Stockholm 2014, 149–152. ISSN: 2000-0898. ISBN: 978-91-977798-6-9. Softcover, 257 pages. https://doi.org/10.30549/opathrom-07-07