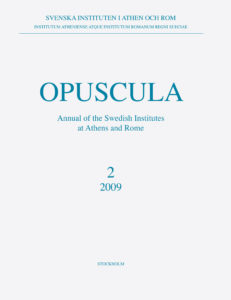 Opuscula 2 (2009) is now available for purchase and free download at Bokorder.se. Also available at Amazon.com, Amazon.de, Bokus.com and Adlibris.com.
A new inscribed statue base from the Sanctuary of Poseidon at Kalaureia
By Jenny Wallensten & Jari Pakkanen
Abstract
In the Kalaureia Research Program excavations of 2007 and 2008, four joining blocks of a statue base were unearthed. The monument is a dedication from the polis of Arsinoe in the Peloponnese: its inhabitants offered two statues, of King Ptolemaios and his sisterwife Arsinoe Philadelphos, to Poseidon. The present article publishes the monument and its inscription, and proceeds to present a reconstruction and an attempt at positioning the monument in its historical context.
Download PDF - Size: 749.17 KB - Downloads: 102 (since 2023)
Bibliographical information
Jenny Wallensten & Jari Pakkanen, 'A new inscribed statue base from the Sanctuary of Poseidon at Kalaureia', Opuscula. Annual of the Swedish Institutes at Athens and Rome (OpAthRom) 2, 155–165. Stockholm 2009. ISSN: 2000-0898. ISBN: 978-91-977798-1-4. Softcover, 232 pages. https://doi.org/10.30549/opathrom-02-07