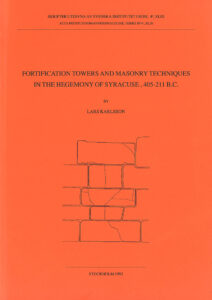 Published by the Swedish Institute of Classical Studies in Rome. Distributed by Astrom Editions.
Fortification towers and masonry techniques in the hegemony of Syracuse, 405–211 B.C.
Syracuse assumed the leadership of the Greek cities after the Carthaginian wars of 409–405 B.C. and the first chapter discusses the four main periods which can be discerned in the archaeological material: (1) the rule of Dionysios I, 405–367 B.C., (2) the period of Timoleon, 244–c. 316 B.C., (3) Agathokles, 316–289 B.C., and (4) the rule of King Hieron II, 270/69–215 B.C. Pyrrhos, as king of Syracuse in 278–276 B.C., was also responsible for work on Sicilian fortifications.
Towers with internal crosswalls are treated in Chapter Two and they appear in two types. The first group consists of seven towers with internal walls in the shape of a T (the 'Epipolai Towers'). The towers are large and square, measuring 10–12 m. (around 30–35 Doric ft.) on a side. The second group of towers with interior walls in the shape of a Greek cross, is common in Sicily. Twelve square examples are known (plus two circular and two semicircular). The square towers frequently measure 6.60 m. (20 Doric ft.) on a side. It is suggested that both these tower types date in the period of Agathokles.
The emplekton masonry technique is discussed in the third chapter. The technique mentioned by both Vitruvius and Pliny, is connected in this study with the Hellenistic style of headers and stretchers. The main ingredient is the masonry chain built with alternating headers and stretchers, seen in the walls of Dionysios I. The chain technique in third-century Sicily is employed in rubble walls and here the chains alone are built with larger (often ashlar) blocks (The 'Hieronian masonry chain').
Finally, in Chapter Four is given a study of how the blocks were treated on their exterior surface. Beveled edges, though a hallmark of the Timoleontic period, appear under Dionysios I and continue through the period of Pyrrhos. Drafted margins (and rustication) are basically a trait of Agathoklean and Pyrrhic fortifications.
The chapter of conclusions puts together these three architectural features into a historic development of city walls in the hegemony of Syracuse, 405–211 B.C.
Contents
Acknowledgements
Bibliographical abbreviations
Introduction
I. Historical background, 405–211 B.C.
II:1. Towers with internal crosswall in Sicily
II:2. Towers with internal crosswalls outide Sicily
III. Emplektion masonry and the chain technique
IV. Beveled edges and drafted margins
V. Conclusions
Appendix. The date of the lion-head spouts from the Euryalos
List of illustrations
Index
Bibliographical information
Lars Karlsson, Fortification towers and masonry techniques in the hegemony of Syracuse, 405–211 B.C. (Skrifter utgivna av Svenska Institutet i Rom, 4°, 49), Stockholm 1992. ISSN: 0081-993X. ISBN: 978-91-7042-142-6. Softcover: 130 pages.