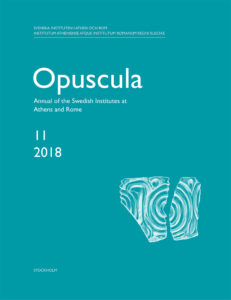 Opuscula 11 (2018) is available for purchase at Amazon.com, Adlibris, Bokus and bokorder.se. Distributed by eddy.se ab.
Two Early Helladic II terracotta rollers from Asine and their glyptic context
By Michael Lindblom (Uppsala University), Gullög Nordquist (Uppsala University) & Hans Mommsen (Universität Bonn).
Abstract
Two Early Helladic II terracotta rollers from the Third Terrace at Asine are presented. The objects, used to impress relief decoration on pithoi and hearths, are unique in that no other examples are known from the Early Bronze Age Aegean. Their origin is discussed based on chemical characterization and their depositional contexts are reviewed from an archaeological perspective. Although there are no known impressions from these rollers on pithoi and hearths at Asine, it is shown that their owners surrounded themselves with different objects featuring similar glyptic impressions. Two such impressions find identical parallels at Tiryns and the combined evidence strongly suggest that Asine was the home for one or several potters who produced Early Helladic impressed hearths and pithoi.
Download PDF - Size: 1.28 MB - Downloads: 111 (since 2023)
Bibliographical information
Michael Lindblom, Gullög Nordquist & Hans Mommsen, 'Two Early Helladic II terracotta rollers from Asine and their glyptic context', Opuscula. Annual of the Swedish Institutes at Athens and Rome (OpAthRom) 11, Stockholm 2018, 81–96. ISSN: 2000-0898. ISBN: 978-91-977799-0-6. https://doi.org/10.30549/opathrom-11-04