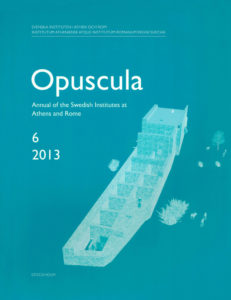 Opuscula 6 (2013) is now available for purchase and free download at Bokorder.se. Also available at Amazon.com, Amazon.de, Bokus.com and Adlibris.com.
The agency of Greek and Roman statues. From Homer to Constantine
Abstract
In the Archaic period the Greeks did not yet conceptualize the difference between a divinity and its statue. Therefore, stories that stressed the agency of statues separate from their divinities must have seemed less strange at that time than when the statues had become independent, so to speak, from their gods or goddesses. The latter started to happen in the transitional period to the Classical era when the well-known triad of divinities—heroes—mortals came into being, and philosophers began to criticize the worship of statues. All these changes together led to a development in which the agency of statues increasingly became noteworthy. After the 5th century BC we keep hearing about the agency of statues but we can also notice a growing critique of the worship of statues by different philosophical schools. In both Greece and Rome divine statues manifested themselves in particular during moments of crisis or of a decisive political character. In the Greek East the belief in the agency of statues lasted until the 3rd century AD, as Archaic statues represented a kind of cultural capital for the Greeks under Roman rule. Yet, in the end the continuing philosophical critique, which had been radicalized by the Christians, made the agency of statues intellectually unacceptable.
Download PDF - Size: 214.17 KB - Downloads: 178 (since 2023)
Bibliographical information
Jan N. Bremmer, 'The agency of Greek and Roman statues. From Homer to Constantine', Opuscula. Annual of the Swedish Institutes at Athens and Rome (OpAthRom) 6, 7–21. Stockholm 2013. ISSN: 2000-0898 ISBN: 978-91-977798-5-2. Softcover, 358 pages. https://doi.org/10.30549/opathrom-06-02