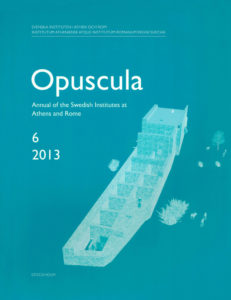 Opuscula 6 (2013) is now available for purchase and free download at Bokorder.se. Also available at Amazon.com, Amazon.de, Bokus.com and Adlibris.com.
On the dating of two early 2nd century coin issues from Kos and the IGCH 1320 hoard
Abstract
This paper presents and discusses the dates of two Koan silver issues, drachms with young Herakles/crab and club in incuse, and hemidrachms with Apollo/lyre. A date in the 190s BC is suggested on several grounds. Weights and diameters correspond with those of HI XII and XIII of the 3rd century, suggesting that the issues discussed here followed shortly thereafter. The other Koan silver issues of the 2nd century were minted on a lower weight-standard. The IGCH 1320 hoard contains examples of both issues, and the other Koan issues in it date to the middle and second half of the 3rd century or the 190s/c. 190. Groups of homonyms occur in issues dating to the end of 3rd/early 2nd century. A connection with Kalymnos seems likely for the hemidrachms, and this may suggest a date early in the 190s during the war with king Philip V of Macedonia.
Download PDF - Size: 1.55 MB - Downloads: 43 (since 2023)
Bibliographical information
Kerstin Höghammar, 'On the dating of two early 2nd century coin issues from Kos and the IGCH 1320 hoard', Opuscula. Annual of the Swedish Institutes at Athens and Rome (OpAthRom) 6, 261–305. Stockholm 2013. ISSN: 2000-0898 ISBN: 978-91-977798-5-2. Softcover, 358 pages. https://doi.org/10.30549/opathrom-06-09