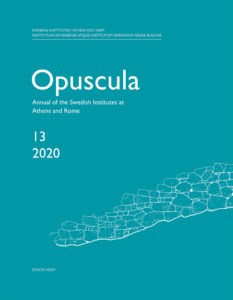 All content of Opuscula 13 is available with open access. Printed edition distributed by Eddy.se AB. Also available at Amazon.com, Adlibris, and Bokus. View volume at ERIH PLUS.
A Mycenaean pictorial vase from Midea
By Katie Demakopoulou (Director Emerita, National Archaeological Museum, Athens, Greece)
Abstract
The Greek-Swedish excavations on the Mycenaean acropolis of Midea have brought to light a large amount of fine decorated pottery, which includes numerous fragmentary vases and sherds with pictorial decoration. This material has firmly established Midea as an important find-spot of figure-style pottery, like other great Mycenaean Argive centres, such as Mycenae, Tiryns and Berbati. This paper presents a remarkable pictorial vase recently found at Midea. It is a ring-based krater, almost completely restored from fragments, decorated with a row of six birds. The bird is a common motif in Mycenaean pictorial vase painting and also well attested on many other ceramic pieces at Midea, particularly the type of the folded-wing marsh bird. This type of bird is also popular at Tiryns, providing evidence that this category of pictorial pottery from the two citadels, dated to the LH IIIB2 period, was produced in the same workshop, which must have been situated at or near Tiryns. The abundant pictorial pottery from Midea and other significant discoveries at the site, such as monumental architectural remains and important finds, confirm the position of Midea as a great centre, alongside the other two Argive major citadels, Mycenae and Tiryns.
Download PDF - Size: 554.54 KB - Downloads: 68 (since 2023)
Bibliographical information
Katie Demakopoulou, 'A Mycenaean pictorial vase from Midea', Opuscula. Annual of the Swedish Institutes at Athens and Rome (OpAthRom) 13, Stockholm 2020, 113–121. ISSN: 2000-0898. ISBN: 978-91-977799-2-0. https://doi.org/10.30549/opathrom-13-04