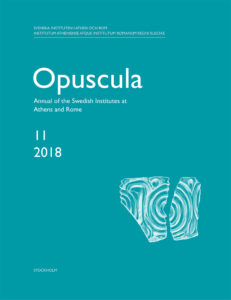 Opuscula 11 (2018) is available for purchase at Amazon.com, Adlibris, Bokus and bokorder.se. Distributed by eddy.se ab.
Painting early death. Deceased maidens on funerary vases in the National Archaeological Museum of Athens
By Katia Margariti (Independent scholar, Greece).
Abstract
The present paper studies the iconography of dead maidens depicted on a red-figured funerary loutrophoros and six white-ground lekythoi in the National Archaeological Museum of Athens, all of them dating to the 5th century BC. The scenes painted on the vases under consideration are representative of the iconography employed by Classical Athenian vase-painters for the depiction of deceased maidens, parthenoi. Dead maidens are not frequently seen on funerary clay loutrophoroi, but mostly appear in psychopompoi, tomb visit, and prothesis scenes of white lekythoi, where their premature death before marriage is often emphasized by the fact that they are shown as brides through the use of wedding iconography elements. They are never portrayed being carried by Hypnos and Thanatos, but are only taken to Hades by Hermes and Charon. Even though the loutrophoros is generally considered to be the symbol par excellence of death before marriage, it is not indispensable to the depiction of maiden figures on white lekythoi. However, in scenes on white lekythoi showing a loutrophoros-hydria set up over the tomb as a sema with the deceased maiden portrayed in close proximity to it, special emphasis is placed on the loutrophoros as a symbol of untimely death and eternal virginity.
Download PDF - Size: 1.08 MB - Downloads: 48 (since 2023)
Bibliographical information
Katia Margariti, 'Painting early death. Deceased maidens on funerary vases in the National Archaeological Museum of Athens', Opuscula. Annual of the Swedish Institutes at Athens and Rome (OpAthRom) 11, Stockholm 2018, 127–150. ISSN: 2000-0898. ISBN: 978-91-977799-0-6. https://doi.org/10.30549/opathrom-11-07