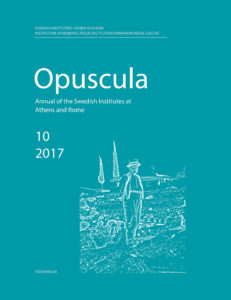 Opuscula 10 (2017) is now available for purchase at Amazon.com, Bokus.com, Adlibris.com, and Bokorder.se.
Symbolic connotations of animals at early Middle Helladic Asine. A comparative study of the animal bones from the settlement and its graves
Abstract
This paper is a contribution to the zooarchaeological research on animals or animal parts found in human graves during the Middle Bronze Age in Greece. The animal bones from the early Middle Helladic settlement (MH I-II, c. 2100–1800 BC) and contemporary burials at Asine are presented. The goal is to compare the animal bones from the settlement with those from the burials, in terms of species composition and body part distribution. Through this comparison, this paper aims to discuss any symbolic connotations of bone waste from everyday-life practices. The results show that the most common domesticates from settlement contexts, pig, sheep/goat and cattle, also appear to be the most abundant animals deposited in the early MH graves at Asine. This is consistent with mortuary data from other sites on the Peloponnese, especially Lerna. The pig was most abundant in both settlement and graves at Asine. The similarities between wild and domestic pigs might be important, and are discussed as a possible inspiration for the pig symbolism in MH I-II Asine. I also propose a regional change in the later Bronze Age of how animals were deposited in graves, in which period the presence of wild mammals, dogs, and horses in high status graves increases. Throughout, pig, sheep/goats and cattle remained the most important animals for ritually connoted events such as funerary meals or feasts.
Download PDF - Size: 13.96 MB - Downloads: 59 (since 2023)
Bibliographical information
Stella Macheridis, 'Symbolic connotations of animals at early Middle Helladic Asine. A comparative study of the animal bones from the settlement and its graves', Opuscula. Annual of the Swedish Institutes at Athens and Rome (OpAthRom) 10, Stockholm 2017, 128–152. ISSN: 2000-0898. ISBN: 978-91-977798-9-0. https://doi.org/10.30549/opathrom-10-06