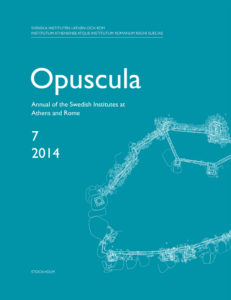 Opuscula 7 (2014) is now available for purchase and free download at Bokorder.se. Also available at Amazon.com, Amazon.de, Bokus.com and Adlibris.com.
A note on domestic vs communal grain storage in the Early Helladic period
Abstract
This paper sets out to propose an alternative model of economic management at settlements of Early Helladic I–II date, where evidence of socioeconomic hierarchies is not prominent in the archaeological material. It is suggested here that the remains of certain original structures within the boundaries of settlements were once granaries which served the whole community. If this reading of the material is accepted, then communal storage seems to have supplemented domestic storage or constituted the sole method of grain keeping at a number of settlements during the initial stages of the EH period. The practice was then abandoned and, with one exception, after the EH II–III break there is instead a strong case for domestic storage only. A potential EH I–II communal management of basic food supplies thus carries wider implications for the interpretation of the general management of settlements.
Download PDF - Size: 438.77 KB - Downloads: 68 (since 2023)
Bibliographical information
Monica Nilsson, 'A note on domestic vs communal grain storage in the Early Helladic period', Opuscula. Annual of the Swedish Institutes at Athens and Rome (OpAthRom) 7, Stockholm 2014, 223–239. ISSN: 2000-0898. ISBN: 978-91-977798-6-9. Softcover, 257 pages. https://doi.org/10.30549/opathrom-07-13
See also
Conference: Berit Wells in memoriam