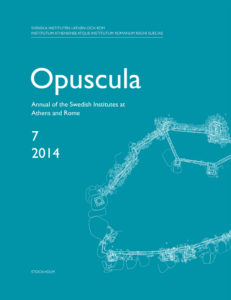 Opuscula 7 (2014) is now available for purchase and free download at Bokorder.se. Also available at Amazon.com, Amazon.de, Bokus.com and Adlibris.com.
Dairy Queen. Churns and milk products in the Aegean Bronze Age
Abstract
This article assembles examples of an unusual vessel found in domestic contexts of the Early Bronze Age around the Aegean and in the Eastern Mediterranean. Identified as a "barrel vessel" by the excavators of Troy, Lesbos (Thermi), Lemnos (Poliochni), and various sites in the Chalkidike, the shape finds its best parallels in containers identified as churns in the Chalcolithic Levant, and related vessels from the Eneolithic Balkans. Levantine parallels also exist in miniature form, as in the Aegean at Troy, Thermi, and Poliochni, and appear as part of votive figures in the Near East. My interpretation of their use and development will consider how they compare to similar shapes in the archaeological record, especially in Aegean prehistory, and what possible transregional relationships they may express along with their specific function as household processing vessels for dairy products during the third millennium BC.
Download PDF - Size: 468.80 KB - Downloads: 45 (since 2023)
Bibliographical information
Sarah P. Morris, 'Dairy Queen. Churns and milk products in the Aegean Bronze Age', Opuscula. Annual of the Swedish Institutes at Athens and Rome (OpAthRom) 7, Stockholm 2014, 205–222. ISSN: 2000-0898. ISBN: 978-91-977798-6-9. Softcover, 257 pages. https://doi.org/10.30549/opathrom-07-12
See also