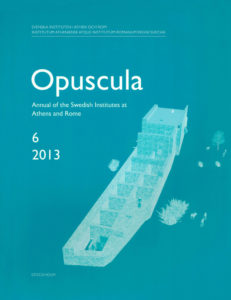 Opuscula 6 (2013) is now available for purchase and free download at Bokorder.se. Also available at Amazon.com, Amazon.de, Bokus.com and Adlibris.com.
The New Swedish Cyprus Expedition 2012. Excavations at Hala Sultan Tekke. Preliminary results
By Peter M. Fischer & Teresa Bürge. With contributions by I. Trinks, B. Stolle, K. Heiß, J.A.I. van der Does & D.M. Blattner
Abstract
The third season of excavation at Hala Sultan Tekke added knowledge to the project, the main objective of which is the investigation and determination of the complete occupational sequence of the pre-12th century BC levels. New walled and open spaces from Strata 1 and 2 were exposed in Area 6. Another pictorial krater with birds was excavated. The terminology for the much discussed Cypriote-produced White Painted Wheel-made ware has been revised and a new terminology is suggested, i.e. "White Painted Wheel-made Geometric Style (WPGS)" and "White Painted Wheel-made Pictorial Style (WPPS)", of which the latter includes the Creature Krater from 2010 and the Bird Krater from this season. The hypothesis that a tsunami destroyed parts of the city in the 14th or 13th century BC is discussed. An additional radar survey of some 1.3 hectares revealed substantial structures, i.e. new city quarters, west of Area 6.
Download PDF - Size: 2.16 MB - Downloads: 33 (since 2023)
Bibliographical information
Peter M. Fischer & Teresa Bürge, 'The New Swedish Cyprus Expedition 2012. Excavations at Hala Sultan Tekke. Preliminary result', Opuscula. Annual of the Swedish Institutes at Athens and Rome (OpAthRom) 6, 45–79. Stockholm 2013. ISSN: 2000-0898 ISBN: 978-91-977798-5-2. Softcover, 358 pages. https://doi.org/10.30549/opathrom-06-04