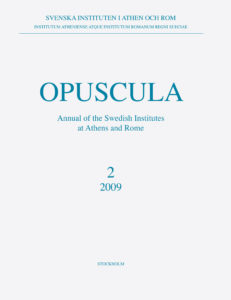 Opuscula 2 (2009) is now available for purchase and free download at Bokorder.se. Also available at Amazon.com, Amazon.de, Bokus.com and Adlibris.com.
Decorative effects and room functions. The evidence of thresholds studied in the residential quarters of Insula V 1, Pompeii
By Thomas Staub
Abstract
The present paper discusses the use of different types of thresholds in the Pompeian domestic architecture. The considerations proceed from observations made in three larger dwellings in Insula V 1 in Pompeii, the town quarter, which is under current investigation by the Swedish Pompeii Project. The thresholds are considered in the contexts of corresponding pavements and wall decorations as well as that of the related rooms. Differences will be studied between the areas around the atria and the zones around the peristyles. They indicate that while the thresholds around the atrium are of a homogeneous character, defined by the shape and decorations of the central room, the ones around the peristyle are defined by the decorations and dignity of each particular room opening up towards the central entity. It seems also that both the material used and the shape of the thresholds could be dependent on the taste defining the decorations, either of the floor or of the walls.
Download PDF - Size: 779.24 KB - Downloads: 65 (since 2023)
Bibliographical information
Thomas Staub, 'Decorative effects and room functions. The evidence of thresholds studied in the residential quarters of Insula V 1, Pompeii', Opuscula. Annual of the Swedish Institutes at Athens and Rome (OpAthRom) 2, 205–218. Stockholm 2009. ISSN: 2000-0898. ISBN: 978-91-977798-1-4. Softcover, 232 pages. https://doi.org/10.30549/opathrom-02-11