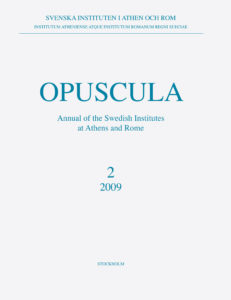 Opuscula 2 (2009) is now available for purchase and free download at Bokorder.se. Also available at Amazon.com, Amazon.de, Bokus.com and Adlibris.com.
Zersägte Köpfe. Die Transformation antiker Porträts zu monumentalen Gemmenbildern im 18. Jahrhundert
Abstract
Im 18. Jahrhundert wurden fragmentiert erhaltene antike Porträtköpfe bisweilen in der Längsachse geteilt und beide Hälften separat als Profilköpfe auf marmorne Hintergründe montiert. Diese Marmorhintergründe hatten häufig die Form ovaler Medaillons mit mehr oder weniger aufwendig profilierten Rahmen. Durch diese Restaurierungspraxis entstand mit solchen Porträtmedaillons eine Reliefgattung, die uns in dieser Form aus der Antike selbst so gut wie gar nicht überliefert ist, die aber im 18. Jahrhundert offenbar einen Nerv der Zeit getroffen hat. Die Porträtmedaillons mit ihren leicht erhabenen Profilköpfen können als monumentalisierte Gemmenabdrücke in Stein verstanden werden. Angeregt wurden sie wohl durch zahlreiche zeitgenössische Gemmenpublikationen in opulenten Stichwerken und den durch diese generierten "Gemmenblick" der Betrachter. So geben diese zu monumentalen Gemmenabdrücken transformierten Porträthälften Aufschluss zu Wahrnehmungs- und Sehgewohnheiten ihrer Entstehungszeit. Sie sind Teil eines ästhetischen Zeitphänomens, das antike Denkmäler durch den Umriss ihrer Formen definiert.
This contribution is only available in print.
Bibliographical information
Dagmar Grassinger, 'Zersägte Köpfe. Die Transformation antiker Porträts zu monumentalen Gemmenbildern im 18. Jahrhundert', Opuscula. Annual of the Swedish Institutes at Athens and Rome (OpAthRom) 2, 181–191. Stockholm 2009. ISSN: 2000-0898. ISBN: 978-91-977798-1-4. Softcover, 232 pages. https://doi.org/10.30549/opathrom-02-09