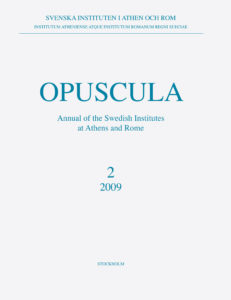 Opuscula 2 (2009) is now available for purchase and free download at Bokorder.se. Also available at Amazon.com, Amazon.de, Bokus.com and Adlibris.com.
Labraunda 2008. A preliminary report on the Swedish excavations
By Lars Karlsson, Jesper Blid & Olivier Henry
Abstract
The Swedish archaeological project at the Karian sanctuary of Zeus Labraundos celebrated, in 2008, sixty years of work. The year 2008 was very special, both because of these celebrations, but also because of the important finds that came to light during the excavation of the unusual Roman bath that was discovered in 2007. It is built in the shape of a four-leaf clover (the so-called Tetraconch), and can be dated to the first half of the fourth century AD. A large amount of finds were discovered, including superb pieces of plates in African Red Slip and Late Roman C wares, a water flask, and coloured marble pieces. In the necropolis, we excavated another 19 rock-cut tombs. The finds from these include a golden ring with a cornelian stone and 22 gold appliqués in the shape of rosettes and palmettes. The appliqués had four holes to fasten them to the drapery of the deceased. They are very similar to appliqués found in the burial chamber of the Maussolleion in Halikarnassos. Two coins from before 350 BC show that the burial belongs in the early Hekatomnid period. In the excavations at the Acropolis Fortress Byzantine structures, possibly barracks, dated by the glazed Byzantine pottery to the period between the 11th and the 13th centuries were discovered. At the bottom of the trench there was a wall belonging to fourth-century BC Hekatomnid buildings. As every year, time and work were spent on architectural conservation and measures to increase the value of the site for visitors: a roof was erected over the Roman bath, a new wooden fence built at the entrance to the site, new metal shelves were installed in the storerooms, and finally, a re-excavation of the monumental original staircase up to the Built Tomb was initiated.
Download PDF - Size: 1.25 MB - Downloads: 64 (since 2023)
Bibliographical information
Lars Karlsson, Jesper Blid & Olivier Henry 'Labraunda 2008. A preliminary report on the Swedish excavations', Opuscula. Annual of the Swedish Institutes at Athens and Rome (OpAthRom) 2, 57–87. Stockholm 2009. ISSN: 2000-0898. ISBN: 978-91-977798-1-4. Softcover, 232 pages. https://doi.org/10.30549/opathrom-02-04