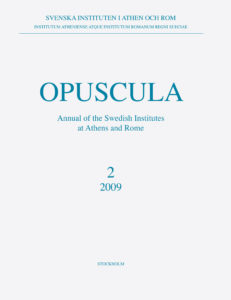 Opuscula 2 (2009) is now available for purchase and free download at Bokorder.se. Also available at Amazon.com, Amazon.de, Bokus.com and Adlibris.com.
Radiocarbon analysis and the history of the East Cemetary, Asine
By Sofia Voutsaki, Søren Dietz & Albert J. Nijboer
Abstract
This paper presents the results of the radiocarbon analysis of human bones from the East Cemetery (IQ tumulus), Middle Helladic Asine. The analyses have been carried out at the Centre for Isotope Research, University of Groningen, using the AMS (Accelerator Mass Spectroscopy) method. The main aim of the analysis is to elucidate the history of use of the tumulus and the surrounding extramural cemetery by comparing the absolute dates with the relative dates based on the ceramic offerings and the internal stratigraphy of the tumulus. The establishment of a formal disposal area and the adoption of the tumulus are significant developments in the MH period, and it is therefore important to date their appearance with more precision. In addition, a more accurate reconstruction of the history of this important funerary monument gives us a better understanding of mortuary practices and social change in Asine, and in the MH mainland in general.
This contribution is only available in print.
Bibliographical information
Sofia Voutsaki, Søren Dietz & Albert J. Nijboer, 'Radiocarbon analysis and the history of the East Cemetary, Asine', Opuscula. Annual of the Swedish Institutes at Athens and Rome (OpAthRom) 2, 31–56. Stockholm 2009. ISSN: 2000-0898. ISBN: 978-91-977798-1-4. Softcover, 232 pages. https://doi.org/10.30549/opathrom-02-03