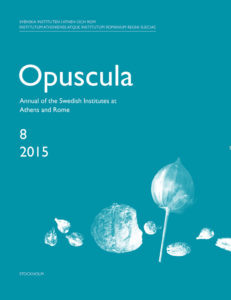 Now available for purchase and free download at Bokorder.se. Also available at Amazon.com, Bokus.com and Adlibris.com.
Contents
John K. Papadopoulos | The Charitonidis Class. A group of large Athenian Late Protogeometric skyphoi
Peter M. Fischer & Teresa Bürge | The New Swedish Cyprus Expedition 2014. Excavations at Hala Sultan Tekke. Preliminary results. With contributions by B. Stolle, I. Trinks, L. Mazzotta & L. Recht, A. Lindqvist & D. Kofel
Vassos Karageorghis & Efstathios Raptou | Two new Proto-White Painted ware vases of the pictorial style from Palaepaphos, Cyprus
Susanne Berndt | Cutting the Gordian knot. The iconography of Megaron 2 at Gordion
Hedvig Landenius Enegren | Loom weights in Archaic South Italy and Sicily. Five case studies
Peter M. Fischer & Teresa Bürge | The Swedish Jordan Expedition 2014 at Tall Abu al-Kharaz. Preliminary results from Areas 12 and 13
Gregor Maurach | Terenz' Hecyra – Spiel der Voreiligkeiten
Bibliographical information
Opuscula. Annual of the Swedish Institutes at Athens and Rome (OpAthRom) 8, Stockholm 2015. ISSN: 2000-0898. ISBN: 978-91-977798-7-6. Softcover, 196 pages. https://doi.org/10.30549/opathrom-08.