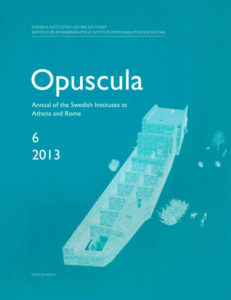 Now available for purchase and free download at Bokorder.se. Also available at Amazon.com, Amazon.de, Bokus.com and Adlibris.com.
Contents
Jan N. Bremmer | The agency of Greek and Roman statues. From Homer to Constantine
Margareta Strandberg Olofsson | Fragments with horses and wolf's teeth. Black impasto and its association with periods and buildings in the monumental area at Acquarossa
Peter M. Fischer & Teresa Bürge | The New Swedish Cyprus Expedition 2012. Excavations at Hala Sultan Tekke. Preliminary results. With contributions by I. Trinks, B. Stolle, K. Heiß, J.A.I. van der Does & D.M. Blattner
Alexandra Alexandridou | Archaic pottery and terracottas from the Sanctuary of Poseidon at Kalaureia
Jörg Weilhartner | Textual evidence for Aegean Late Bronze Age ritual processions
Ann Brysbaert & Melissa Vetters | A moving story about exotica. Objects'' long-distance production chains and associated identities at Tiryns, Greece
Maria-Foteini Papakonstantinou, Arto Penttinen, Gregory N. Tsokas, Panagiotis I. Tsourlos, Alexandros Stampolidis, Ilias Fikos, Georgios Tassis, Konstantina Psarogianni, Lambros Stavrogiannis, Anton Bonnier, Monica Nilsson, Henrik Boman | The Makrakomi Archaeological Landscapes Project (MALP). A preliminary report on investigations carried out in 2010-2012
Kerstin Höghammar | On the dating of two early 2nd century coin issues from Kos and the IGCH 1320 hoard
Peter M. Fischer & Teresa Bürge | The Swedish Jordan Expedition 2011 and 2012 at Tall Abu al-Kharaz. Preliminary results from the early Iron Age occupation in Area 9. With contributions by D. Blattner, M. Alrousan & A. Abu Dalo
Bibliographical information
Opuscula. Annual of the Swedish Institutes at Athens and Rome (OpAthRom) 6, Stockholm 2013. ISSN: 2000-0898 ISBN: 978-91-977798-5-2. Softcover, 358 pages. https://doi.org/10.30549/opathrom-06.